Have you always wanted to travel to Iceland? Only have a long weekend to get away? Here is the best 4 Day Itinerary for your Iceland road trip. Four days. Three girls. One van. Ceara, Hannah, and I decided to leave new york city for #vanlife in Iceland. Within the first few hours of being in Iceland — I fell in love with this country. Road tripping is the best way to travel. You see the most, run into random things you never would otherwise, and always make the best memories. So here is our quick 4 day Iceland road trippin' itinerary. If you'd like to see this road trip in action you can watch the full trip's vlogs on my YT channel! Subscribe to my channel if you like what you see! xxo ((If you'd like the shortest version of the itinerary possible, scroll down to the bottom!))
DAY 1
We took an overnight flight from New York to Reykjavik and landed early in the morning. A shuttle took us to Kuku Campers where we would pick up our van that we had rented. As soon as we got situated in our van, we raced to brunch. We were all hungry, on the verge of being hangry, and I had my eye set on The CooCoo's Nest — an adorable brunch spot right near Reykjavik's Old Harbor. One of the best brunches I've ever had, either because I was starving or because it was phenomenal but I highly recommend you go. Also, get the beet mimosa! It is to die for.
After practically licking our plates clean, we hopped back in the van and drove to our next meal… lol. I wish I was kidding but this really is how it went. BUT we did take a quick 30 min nap on the side of highway by a river we saw on the way. You'll have to make a reservation for Friðheimar — a famous tomato farm with an incredible restaurant. I still dream of this tomato soup daily. Friðheimar offers you a endless buffet of their homemade tasty tomato soup + bread. It is the best option on the menu and I highly recommend at least one person you're with to get the endless soup! Honorable mention goes to the mini basil plants they have on each table with scissors to cut off fresh basil for your soup.
Next, we went to Hrunalaug Hot Spring — which turned out not to be a hot spring. It was all dried up but still in a beautiful spot. There are so many 'hot pots', as they call them, so pick another along the way! From there we drove farther North and went to Gullfoss. It was freezing but well worth it. After adventuring around there for a bit we headed to a campsite closer to where we wanted to be for Day 2, Tjaldsvæðið Hvolsvelli, and passed out.
DAY 2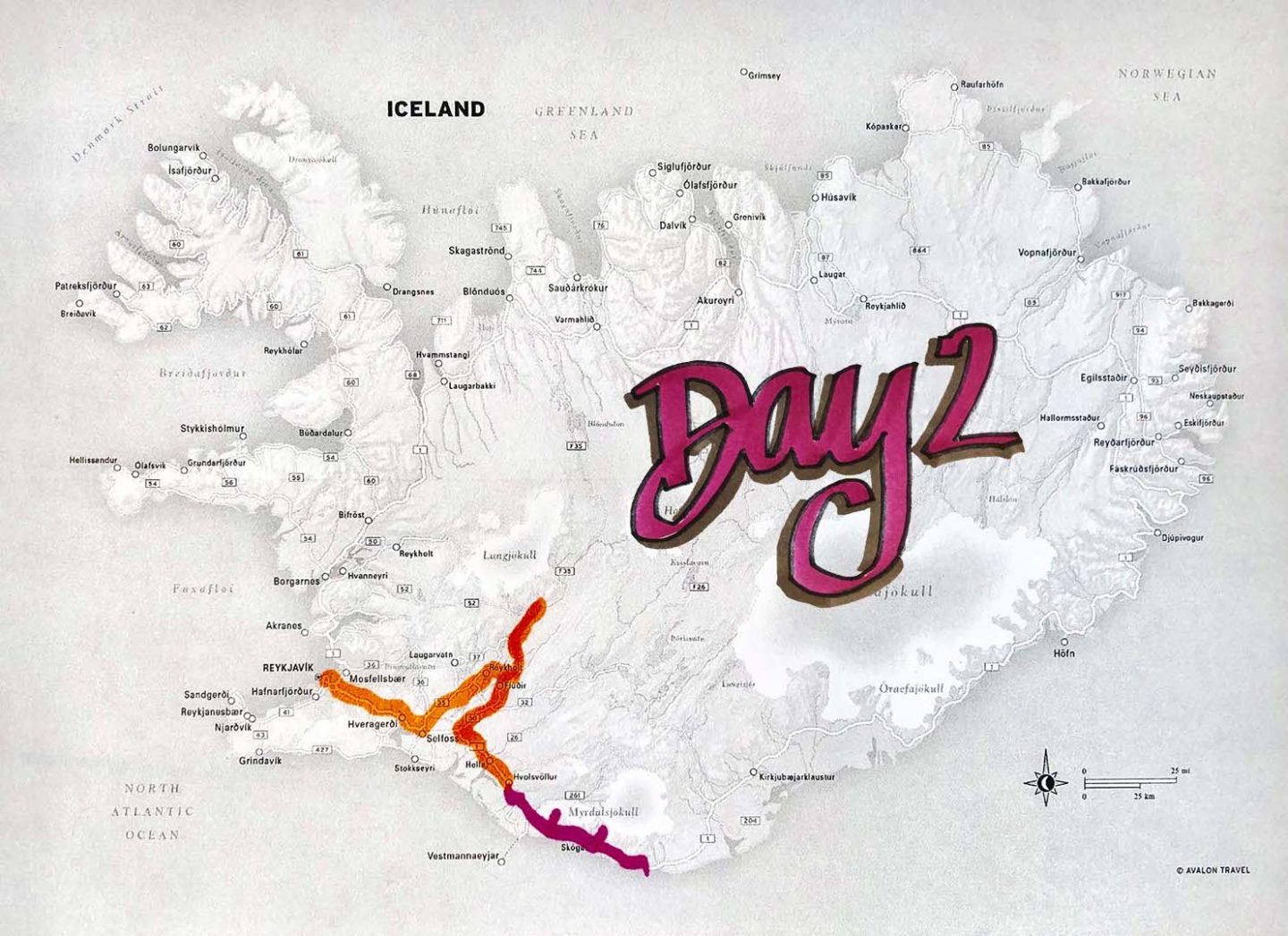 Day 2 started with a nice 5:30AM wakeup call + showers in the campsite sink. Turns out you need Icelandic coins for the shower to turn on so don't be like us and forget them. We got to Seljalandsfoss super early before there were tons of tourists and I cannot recommend this enough. It was so peaceful and beautiful without having to shuffle pasts hundreds of other tourists.
We took thousands of photos, made hotdogs in the parking lot for a gourmet breakfast and then headed to our next waterfall stop: Sgogafoss. Another incredible waterfall that is a must-see. Once we frolicked around that waterfall enough, we then hiked up to one of the oldest hot springs, Seljavallalaug. Another must-see.
Basically everything in Iceland is a must-see but this was the nicest hot spring/hot pot we came across. Once we found our lost van keys (long story, watch the vlog) we drove for a bit to Reynisfjara Black Sand Beach. This quickly became my favorite place on earth. Guess what… another must-see. After chasing the sunset on this black sand beach we decided to campout at Vík Camping. They have a communal dining room with a sink + microwave. We brought our portable stove in and ate dinner while people watching and listening to foreign languages. While we didn't do much researching for campsites, we picked them only based on location and proximity to our next destination, this one was amazing with a stunning view to wakeup to!
DAY 3
While we love loved this campsite, prepare yourself for a communal shower. This may be a commonplace but let's just say it was a surprise to us. This time we were prepared and got Icelandic coins from the front desk while checking in… I think you get 5 minutes to shower. After that wake up call we headed to the Solheimasandur Plane Wreck. Once again, we made sure to get there early enough where it was basically just us and the plane. Highly highly recommend getting up earlyyyy so you have it to yourself. We hiked to the plane and took the shuttle back. It is a totally different feel without tourists being bussed in. Which happens as soon as the shuttle opens.
Then we drove east on the 1 for a couple of hours. We got caught in our first sandstorm, saw the country terrain change 3 times and then pulled off and danced in the middle of the highway — also highly recommended. Once we drove for about 3 hours we landed at the Glacier Lagoon: Jökulsárlón. After exploring and scarfing down the best fish & chips I've ever had (Literally named Nailed It Fish & Chips. lol) I then jumped into the 37 degree water. Not sure if I recommend this to everyone, but if you are an adrenaline junkie like me, go for it!!!!
It was then a 2.5 hour drive back to Vík Camping. We made friends with a Russian solo-traveler and had dinner in the same spot as the night before. But instead of paying for overnight camping there — we drove to a random spot on a hill and knocked out.
DAY 4
We woke up, once again, crazy early to make it to snorkel in-between the tectonic plates in Silfra! This is a must-do no matter how long you have in Iceland. Make it happen. We decided to snorkel over visiting the classic Blue Lagoon and I don't regret a thing. We snacked on road PBJ's (Icelandic peanuts butter is superior to all other peanut butters in the world. Another must-have) and drove for about 2 hours to Silfra. Once we arrived we got prepped to be submerged in 34 degree water with a a thermal jumpsuit, a full dry suit and flippers. Snorkeling between the tectonic plates is another must-do. My favorite part had to be the fact that we could drink the fresh water as we swam and it was by far the best tasting water I have ever had.
Snorkeling in a drysuit was way more draining than we could've imagined, so naturally we were starving. I used my foodie googling skills to find Kaffihús Vesturbæjar — an adorable coffeeshop with light fare that turned out to be another of of my favorite brunches I've ever had. The salmon tartine with poached eggs crosses my mind at least once a day… Also, you know it's a great spot when the menu is not even offered in English and the barista has to help translate the menu for you, just sayin'. Ice cream was next on the list because… I don't know, I'm addicted. Head to Ísbúð Vesturbæjar which is a short walk from the cafe. You won't regret it. Then, unfortunately, it was our time to clean out the van and head to the airport.
Whether Iceland is on your bucket list or not — book your flight. You won't regret it. I'm not saying you have to live out of a van like we did, but you should. It has quickly become one of my favorite trips I have ever been on. We packed more into those four days than I have on some week-long trips. Maybe it was the extended hours of daylight that made the days feel longer or maybe it was that we were always on the go since we lived out of the van — but I would buy a plane ticket back right now if one of you guys said you'd come back with me.
TLDR:
DAY 1
Reykjavík
Friðheimar Greenhouse
Hrunalaug Hot Spring — NOT A HOT SPRING but still pretty.
Gollfoss
Tjaldsvæðið Hvolsvelli (campsite)
DAY 2
Sgogafoss
Seljalandsfoss
Seljavallalaug
Reynisfjara
Vík
DAY 3
Solheimasandur Plane Wreck
Drive East on 1
Glacier Lagoon
Jökulsárlón
Vik Camping
DAY 4
Silfra
Sorkling Tectonic Plates
Tröll Snorkel
Reykjavík
Kaffihús Vesturbæjar
Ísbúð Vesturbæjar

xxo,
L